"From the care and welfare of your horse to a relaxing thoroughbred environment then you won't find a better location than BPTAP. Each time I've agisted horses at the stunning Portarlington property they have returned to trainers in simply outstanding condition and with a renewed freshness for racing.  What's even more impressive is that proprietors Michael and Kim treat each horse as an individual and constantly monitor their progress which is reassuring because you know your horse is receving the best possible care even while spelling. And unlike many rivals getting information about your horse is made easy because of the accessability of Michael and Kim who are only too happy to have owners on the property to view the progress of horses.
Having had some horror experiences with certain agistment properties finding BPTAP has been a godsend in every way."
Ben Casanelia
Thoroughbred Owner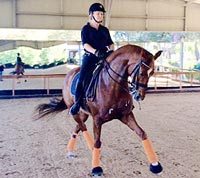 "As a former Australian Dressage team member and winner of multiple state and national titles, I am very fussy about my horses' happiness and well being. The commitment and attention to detail shown by Kim and Michael at BPTAP is world class!! It's basically "Horse-Heaven" from the beautiful pastures, safe and well maintained fencing and wide warm shelters, to their own expert care and attention, I could not possibly recommend BPTAP more highly.
After a holiday at BPTAP my horses have all looked amazing and resumed their work with renewed energy and enthusiasm. "
Kind regards, Emma Youngman
I would have no hesitation in recommending any horse owners or trainers in sending their precious thoroughbreds to Bellarine Peninsula Thoroughbred Agistment Park. The facilities here are first class with safe fencing and great pasture perfect for horses to recuperate after a hard racing campaign. Michael and Kim have excellent horse husbandry skills and can cater for any need your horse has. I can't speak highly enough of how horses return from spelling refreshed and in great order.
Peter Jaques
Thoroughbred Trainer